Join us this Sunday, September 4, 2016 from 2-4pm at our main headquarters location in Lauderhill and try a bunch of delightfully unusual snacks and treats! This is your chance to taste new and exciting flavors for FREE! That's right… this event is totally FREE!
And as a super lucky bonus, everyone gets one of these super cute commemorative Pocky Bear in a Yukata stickers for FREE TOOOOOOO!  This guy right here —->
So you're now wondering how this works…? Here are the details. Starting at 1:30pm (until 4pm) we will be giving out numbered tickets in the back of the store (by the TARDIS door) at our main location. It is one ticket per person only! We cannot give you a ticket if the person has not arrived yet. Once you get your ticket you are free to spend your time waiting by leisurely browsing around the store until your number is called! This will be called out via loudspeaker/intercom and repeated. Promptly at 2pm the first group of numbers will be called to get ready go down the sampling line and collect the tasty snacks!! There is a fun lil questionnaire to fill out while you sample, and when you are done, just drop it in the box to enter into our raffle for a gift bag of free snacks. You do not need to just stand in one spot waiting for your turn, in fact please DON'T! As each group of snack tasters clears out – we will call the next group in. You will NOT LOSE YOUR TURN! Even if you don't hear your number  and MISS IT when your number is first called, you can simply go up with the next group, you won't lose out, so don't worry!!
This year (for the first time) the actual snack sampling setup will be taking place at our Gaming Satellite location next door. You do not need to wait over there OR outside in the hot sun, all numbers will be called on our loudspeaker at the main comic location. Once you hear your number, head out the front door and turn right. Your ticket will be checked by our door monitor and you will be let into snacktopia.
Moving this event from our tiny upstairs gallery space to our large much cooler gaming event space should make it a lot more fun for everyone! Your cooperation is appreciated to make everything run smoothly. Our staff is truly EXHAUSTED by the end of the day, so we extra appreciate your happy faces. 🙂
But wait… there's more!!
We also have a great coupon for snacks that is only valid on the day of this event!
Make sure you have a printed flyer to take advantage of it You can print one here.
You MUST have a printed coupon to take advantage of this deal! NO exceptions!
Photos from our 2015 Snack Tasting Event – it will be different this year, but you will get an idea of what it is like!
Here is the flyer again for you! Bring it!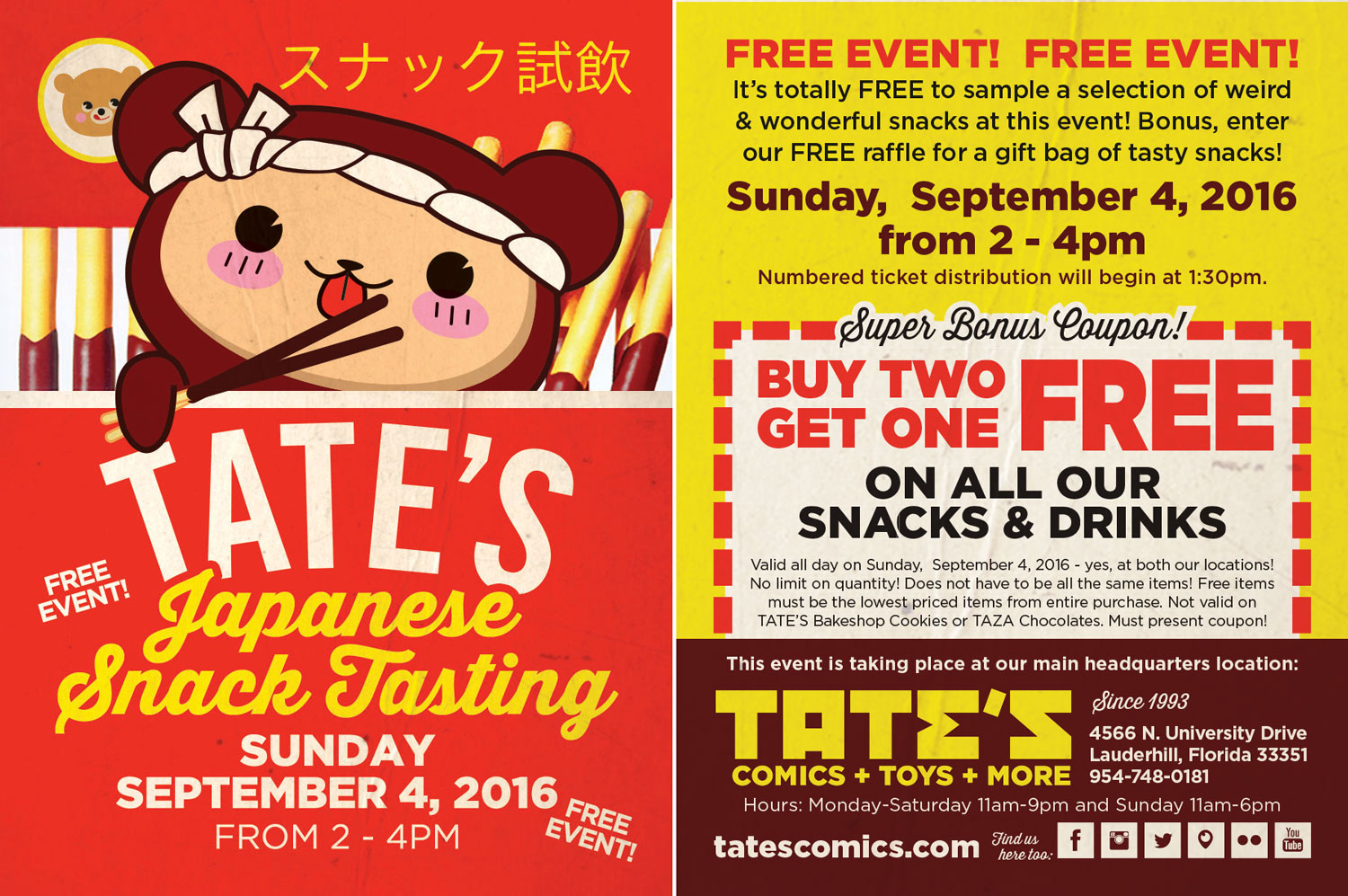 Are you on snapchat? Check out our limited time geofilter for the event! Happy fun times are good to document!