Flickr photo archive of this event!
(and a convenient hands free slideshow option)
Culture Shock – Art of the New Movement
Opening reception: Saturday, September 10th, 2005 • 7pm -12midnight
Buena Vista Building (2nd Floor)  • 180 NE 39th Street # 214/215
Miami Design District, FL 33137
The Lowbrow movement has many names and definitions with one common goal: To bring about a creative change in the art community.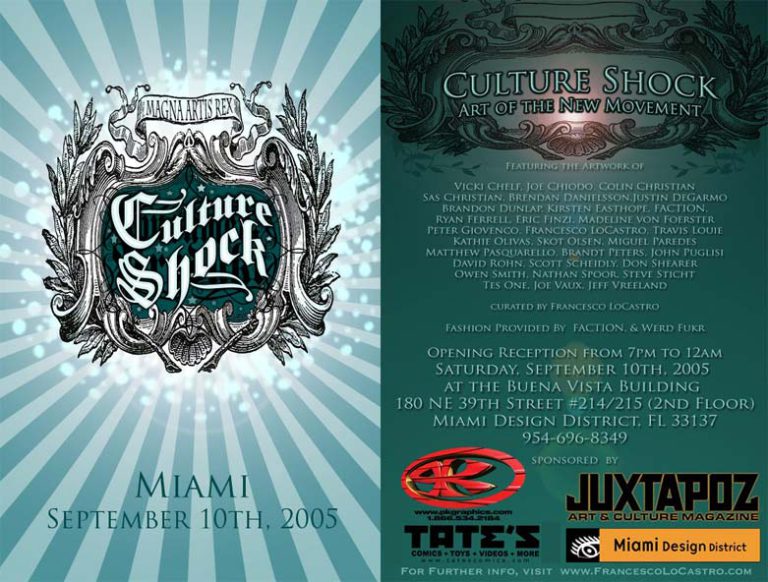 Featuring artists: Vickie Chelf, Joe Chiodo, Colin Christian, Sas Christian , Brendan Danielsson, Justin DeGarmo , Brandon Dunlap, Kirsten Easthope, FACTION, Ryan Simmons Ferell, Eric Finz, Madeline von Foerster, Peter Giovenco, Francesco LoCastro, Travis Louie, Kathie Olivas, Tes One, Skot Olsen, Miguel Paredes, Matthew Pasquarello, Brandt Peters, John Puglisi, David Rohn, Scott Scheidly, Don Shearer, Owen Smith, Nathan Spoor, Steve Sticht, Joe Vaux, Jeff Vreeland
Sponsored by TATE'S.
We will be setting up a merchandise table on Saturday night, selling art books, toys and stuff. Be sure to check it out!!